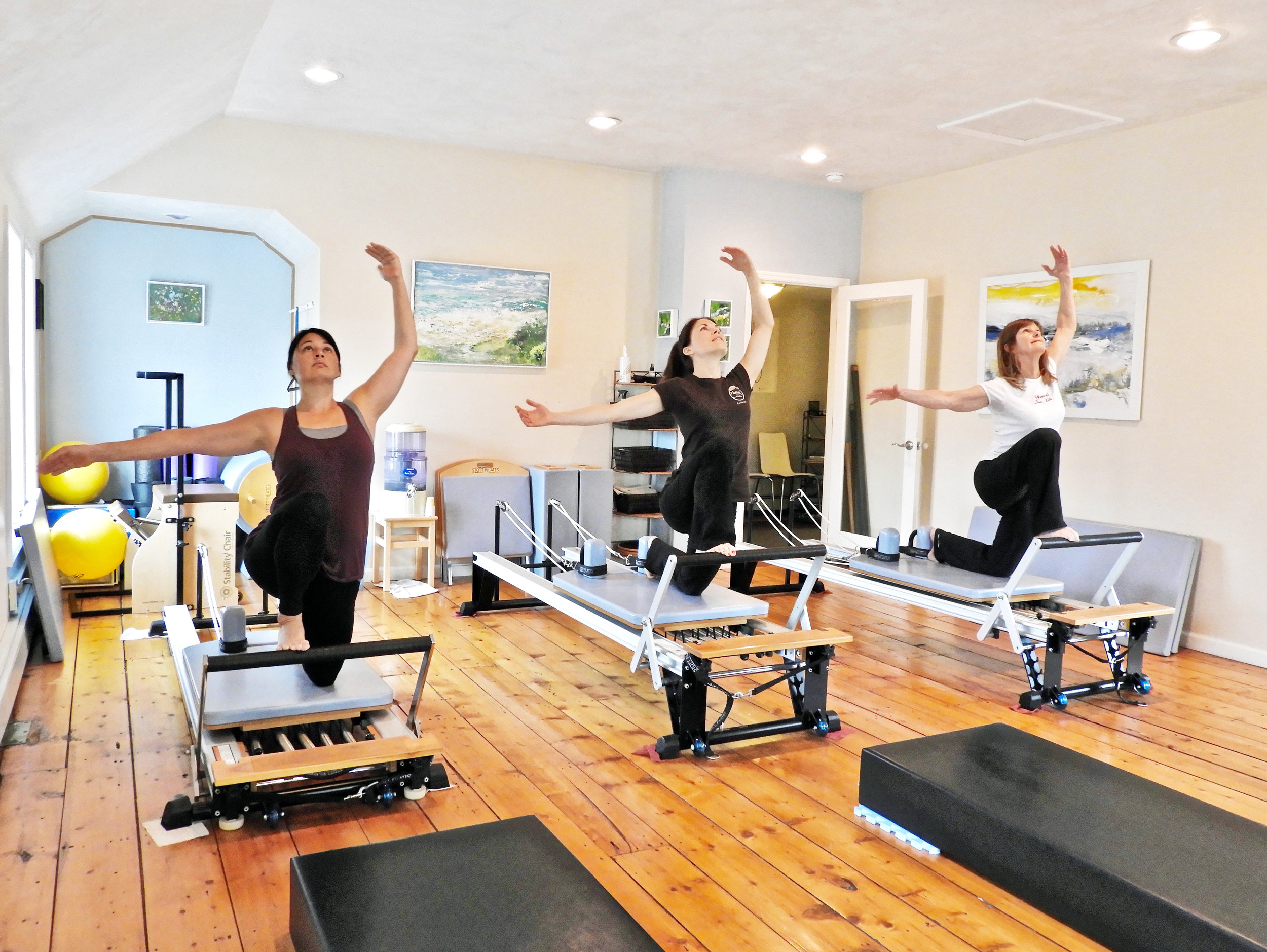 Pilates on Main is dedicated to providing the client with a beneficial and highly individualized workout experience. Whether you are recovering from injury, an experienced athlete, or simply looking for a great workout, Pilates on Main will deliver the results you are looking for. The strength and awareness of the core muscles serves as the foundation for the work. Building on the principle of neutral spine and pelvis, you will take away the sense of standing tall, with long lean muscles and the ability to move gracefully and efficiently through the day.
Pilates is a non-impact, full body exercise that focuses specifically on building core muscle strength that leads to better body stability and mobility for daily life. Participants learn to accurately use the body's core muscles to better guide and look after their bodies. This work is done through machine based work (Reformer, Tower, Chair, Spine Corrector and Arc Barrell), and mat work to learn the essential principles of pilates.
Pilates on Main offers Solo and Duet private training as well as Trio Machine Classes, and Small Group Mat Classes. The Studio features state of the art equipment made by Stott Pilates (Merrithew Fitness): we have 3 Professional Reformers, 3 Towers with Raised Mats, a Stability Chair, Spine Corrector and Arc Barrel, stability balls, foam rollers, resistabands, resistance tubing and free weights. We also provide various foam cushions to aid with alignment and comfort during class. Pilates on Main is a light, open and quiet studio that enhances focus and concentration. A superior workout is achieved with the body feeling invigorated, the mind feeling clear and the spirit ready for the day's challenge.
About David
David Loewen is a competent and devoted pilates professional with over 25 years experience in teaching the pilates technique, personal training and group fitness classes. He creates individualized programs for each client that address areas of weakness and helps clients achieve their fitness goals and objectives. Certified by Stott pilates, David has created a teaching method founded in sound biomechanical principles, a holistic perspective and good "people skills" to best work with clients. He will demonstrate the highest levels of professionalism and empathy toward clients at all times.
David has enjoyed living in Ulster County, New York since 2007; Pilates on Main studio-founded as well in 2007-has grown into a successful business valued by the local community and weekend residents. Besides teaching pilates he enjoys a busy life with his wife Melissa and their two children Emma and Eli. It is a true joy to play full out with his children and it is no coincidence that pilates exercise significantly increases his ability to so. David enjoys many activities including tennis, alpine skiing, dance and teaching fitness classes. He leads a healthy and happy lifestyle, and he looks forward to helping you achieve your fitness goals at Pilates on Main.